Old Churches and Meeting Houses in Lexington
From lex-wiki
In And Around Lexington
Events
Events and Calendars
Arts and Entertainment
Art Galleries, Cary Library
Museums
Historical Buildings and Sites
Bands
Orchestras, Symphonies
Local Flora and Fauna
Trees, Shrubs and Vines
Wild Flowers and Herbs, Birds
Local History
Articles, Books, Old Pictures
Historic Commission, Historic Surveys
Old Churches and Meeting Houses
Period Maps, TV Stations, Web Site Mirrors
Recreation and Outdoors
Biking, Exercise, Gyms
Parks, Trails
Town Recreation Facilities
Food and Drink
Restaurants
City Life
Mailing Lists, Web Sites, FAQs
Churches and Temples
Child Care Centers
Public, Private Schools
Tutoring and Private Instructors
First Meeting House
Erected 1692, after farmers at Cambridge Farms petitioned the General Court to be made a separate parish, with their own church and minister. The Town of Lexington was incorporated in 1713.
Second Meeting House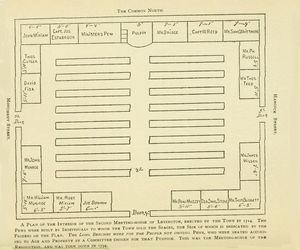 The plan on the left is that of the Second Meeting House, erected 1714. It stood on the Lexington Green at the time of the Revolution.
Third Meeting House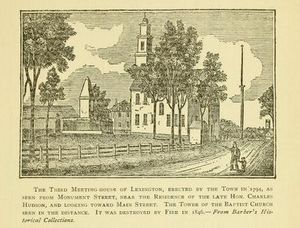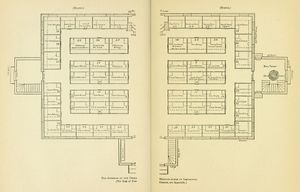 Built in 1794, in the Lexington Common, with the Tower towards the Concord end. It was painted "a pea green", by consent of Town Meeting, but the interior was not painted, and no pew was allowed to be painted "without consent of the town".
The enclosing fence probably dates from after 1820. In the 1830s, two other churches were established in Lexington (First Baptist, and the Church at East Lexington, the latter now called Follen Church, built in 1840 and designed by Charles Follen).
Around 1845-46, the First Parish was incorporated as First Congregational Society of Lexington, and separated itself from the town. "Up to that time", C.A. Staples writes, all church business affairs, "the calling of a minister, the payment of his salary, the repairs upon the meeting-house were conducted under town warrants, in town meeting, giving rise to endless bickering and strife." Old Town Hall, later to function as high school, was built in 1846.
The third meeting house was repaired and refurnished, and as it was ready to be rededicated, it burned to the ground on Dec. 17, 1846. The Baptist Society allowed graciously use of its house to the congregation until the fourth meeting house was erected.
Old Town Hall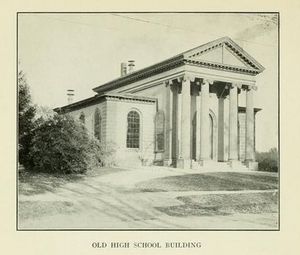 First Parish Church - Fourth Meeting House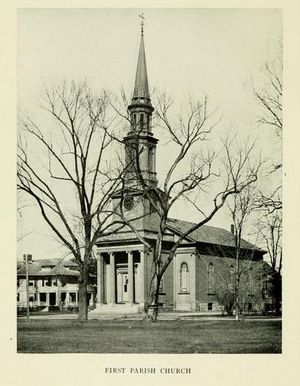 It was built in 1848, on Elm St, and is still standing today. The vestry is an 1878 addition, with further extension work completed in 1908. A three manual organ, built by George S. Hutchins, was installed in 1898, behind the pulpit.
Books, Articles and Resources